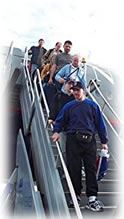 This site is dedicated to the memory of those who lost their lives following the terrorist attack on the USA.
WWW.UA929.ORG is a number of things; a tribute, a celebration, a thankyou, and most of all a community. It is a place to come to remember, to share and to grow for the unique group of people who were : UA929 in Gambo.
The starting point was when a Boeing 777 (United Airlines Flight 929) carrying over 200 people was diverted to Gander International Airport, Newfoundland, on the morning of September 11th 2001.
We were one of the hundreds of aircraft on their way to North America when the horrific 'Attack on America' took place in New York and Washington.
This site is a Thank You! to all those hundreds of people who have helped us, and hopefully a community which will allow us to continue the story of lives which were thrust together in tragic circumstances, but which are stronger and more precious as a result.
NOTE: COMMENTS AND NEW SUBMISSIONS ARE DISABLED